Electrical Services
Need an electrical contractor for your dream home project or an emergency electrician for same-day repairs? At Elite Total Renovations, we understand how frustrating it can be to find a certified professional you can rely on. As one of the Inland Empire's most trusted residential and commercial electrical services providers, we are here to help. Contact us 24/7 at 888-804-2422 ext 800 to request one of our certified electricians to help you today, or click here to schedule your next appointment online on our website in a matter of minutes.
Efficient, Safe, & Reliable Electrical Services in the Inland Empire
---
With over 20 years of industry experience, our highly-skilled technicians are trained to understand your requirements, troubleshoot any issue that you experience & perform exemplary repair services according to a committed schedule. We have earned our reputation through the level of training our team members have undertaken, their combined years of experience and the broad range of services we are able to provide to our customers. When you work with one of our electricians, rest assured that you're working with the very best Inland Empire has to offer in terms of residential and commercial electrical services. All of our contractors undergo extensive background checks before they become a member of our team. We're confident when we say that we only hire the very best in the industry.
When you work with us you get the pleasure of working with:
A Licensed Company with a valid General Contractor B License
A Qualified Professional
A Highly Trained Technician
A Fully Vetted & Assessed Contractor
At Elite Total Renovations, we back all of our services provided with our 100% satisfaction guarantee, so you can be rest assured that your new installations, repairs or additions of electrical equipment will be completed efficiently, up to code and in a timely fashion with utmost professionalism.
When you are in need of expert electrical repairs, call us today at 888-804-2422 ext 800. Our team provides you with the costing upfront so there's no hidden surprises upon completion of the job.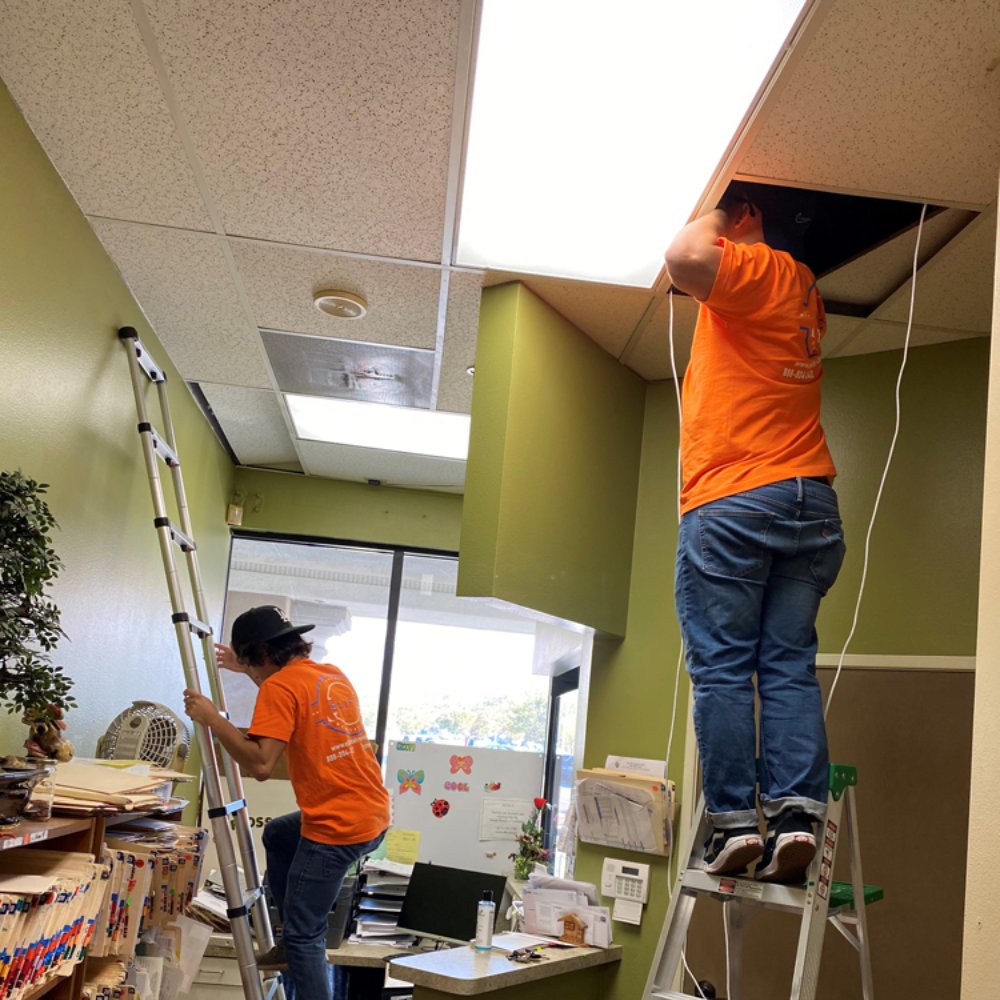 Residential & Commercial Electrical Services
---
Specializing in both residential and commercial contractor service installation and repair, we serve the entire Inland Empire specifically the cities of Beaumont, Menifee, Riverside, Murrieta, Lake Elsinore, Loma Linda, San Bernardino, Perris, Norco & Corona. Whether you need an on-demand or emergency electrician, a quick repair or you are looking to hire a team of licensed contractors for a large project, you can count on our technical know-how and our seasoned problem-solving methodology to turn your vision into reality.
We offer a complete range of services in your area including:
Safety
Our licensed electricians will inspect your property's entire electrical system looking for any safety hazards and potential energy saving recommendations that we can offer to you. In addition we also provide the following safety services:
Outlet Installation
Child Proof Outlets
Safety Inspections
Dedicated Computer Circuitry
Whole House Surge Protectors
GFCI Outlet Installation
Code Updates and Corrections
Wiring Upgrades
Circuit Breaker Replacements
Our electricians examine your circuits to identify faulty wiring and any inconsistent behaviour normally caused due to improper soldering, damaged components, overheating etc.
Get all your electrical systems functioning safely and at their prime today with Elite Total Renovations.
Installations
When it comes to installations, we have only one rule that we live by: do it right the first time and you won't need to ever worry about your electrical system for the near future. Our key installation services include:
Repairs – Commercial or Residential
Panel Upgrades
Panel Repair
Circuit Installation and Updates per code
Ceiling Fan Installation
Home Generator Installation and Maintenance
Commercial Energy Audits
Commercial Panel Upgrades
Exhaust Fan Installation
Exhaust Fan Repair
Solar Energy Systems
Commercial Generators
CO Detectors and Smoke Detectors
Power Conditioners
Power Consumption Meters
Tankless Water Heaters
Lighting
Are you wanting advice on indoor or outdoor lighting installations for your home or office space? We can both advise on or satisfy any lighting need that you might have including any of the following services:
Lighting Repair
Commercial Specialty Lighting
Ballast Replacement
Bulb Replacement
Landscape Lighting
Holiday Lighting
Light Dimmers and Timers
Bathroom and Kitchen Lighting
Recessed Lighting
Track and Accent Lighting
Retrofit Lighting
Transformers
Lighting Controls
Motion Sensors
Hire A Licensed Electrician in the Inland Empire
---
At Elite Total Renovations, we believe that exceptional customer care and professional contractor services are the only way to ensure that your electrical needs have been resolved in a safe and efficient manner. When a team member arrives at your property, they will always greet you with courtesy as well as ensure that they complete the assigned job as quickly & as safely as possible so that you, your family or your employees are faced with minimal disruption and delay.
We are the team to call if you want your property to be wired properly, have your electrical equipment correctly installed, or have a comprehensive safety inspection. As contractors, we are committed to making your home's or office's indoor and outdoor space functional and adaptable to your exact preferences & requirements. We spend time understanding your needs so we are able to offer our expert suggestions to present an outcome that best matches your expectations & budget. Don't be forced to settle for inexperienced or under trained technicians. Let only the very best electricians keep your property safe, secure and your electricity running smoothly and without a hitch.
Schedule your next visit today or call us at 888-804-2422 ext 800 or when you search for an "electrician near me" call a name you trust.